About Master Shin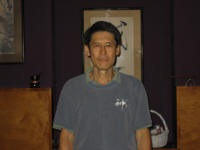 The first time I encountered genuine "Ki(Chi)-Energy" was more than 30 years ago when I was a senior in college playing baseball at Nihon University. Most of my colleagues went to play either in a Japanese professional or company sponsored baseball team following graduation. But I was different; I wanted to become the first Japanese Major League Baseball player in USA like Ichiro Suzuki of Seattle Mariners or Hideki Matsui of New York Yankees today. However, when I was practicing during the winter, I severely strained my shoulder while pitching. The pain was so severe that I could not throw the ball anymore. I visited many medical professionals including medical doctors, orthopedic surgeons, acupuncture, shiatsu therapist, etc.
Despite of all the professional help I sought, my condition did not improve at all. Then, my high school coach introduced me to a Ki(Chi)-Energy healer. At the time, I did not know anything about Ki(Chi)-Energy or Chi-Gong. I was very skeptical because it was weird and unscientific, but I was so desperate to get better, I decided to just go for it. The healer touched my shoulder once in a while and asked me some questions. He did not do much at all. After 30 minutes, he said "you will be able to throw a ball within a couple of days". Of course I did not believe it, however, after two days I had no pain in my shoulder and was able to throw!! Since then I became a true believer of this unbelievable "Ki(Chi)-Energy" power.
Although I attempted to become the first Japanese major league infielder by trying out for the Los Angeles Dodgers, I was not able to make it to the final cut. Instead of going home to Japan, I decided to stay and changed my course to study about the interesting world of universal energy in relation to our physical and mental behavior in Ithaca College, NY. In my graduate school masters thesis, I did research on "Ki" and wrote on "the Effect of Ki-Ai in Force Production". http://www.ithaca.edu/library/archives/student_exhibit.php. At that time my research sought a lot of attention because it was never done before. Since my thesis, "The effects of Ki-Ai" has been studied in many universities around America.
After receiving a Masters Degree, I became a school teacher and later became a director of New York and New Jersey YMCAs. During my career in the YMCA, I was appointed as an instructor-trainer of "Y's Way to Healthy Backs", which was developed by President John F. Kennedy's family Doctor, Dr. Claus. As an instructor, I went to Japan and trained over 200 medical professionals and provided them certifications.
During these trainings, a very famous orthopedic surgeon Japan participated in my class. Since I had a strong doubt on the effect of surgery on the spine, I asked him about "true success ratio of lumbago operation". He told me from his anecdotal experience that it was about 50-60% success rate. Success rate of 50-60% means almost no success at all after so much pain, suffering, and high expenses to get better. This was more than 30 years ago and even today, the success rate has not changed much.
Later in my life, I was involved in a car accident and suffered from whiplash and back pain. Before the accident, I jogged 3 to 5 miles every morning but after the accident, I couldn't even walk more than 100 yards! I went to a chiropractor and an acupuncturist, but my condition did not improve at all. After 8 months, a neurosurgeon came to a conclusion that surgery was the only cure. From my experience, I knew there were other alternatives such as Ki(Chi)-Energy. Since I did not know any good and reliable Ki(Chi)-Energy healers in the U.S. at the time, I decided to go to Japan.
At this time, I tried if I, myself, can fix myself with my own Ki(Chi)-Energy. Although I wasn't able to recover from it on my own completely, I noticed that my pain level went down dramatically!! This is when I noticed I was able to withdraw this energy. I had my back completely cured by a famous Ki(Chi)-Energy healer. But realizing my potential, I started to study and train mentally and physically hard to become a healer.
Once I overcame my problem, I started to heal others utilizing the Ki(Chi)-Energy. I was not so effective at the beginning; however, the more I tried the more energy I was able to withdraw. The more energy I was able to withdraw, the more effective I became to heal others. Today, many people who have pain and suffering come to me for help.